Frequently Asked Questions
at Our Red Lion Chevy Dealer
Here at Apple Chevrolet of Red Lion, we strive to create a straightforward and transparent car-shopping process that works for everyone. So, whether you're curious about our current Chevy specials or want to apply for an auto loan, you'll find that our team is here to help. To make your experience as quick and convenient as possible, we've put together a list of Apple Chevrolet of Red Lion Frequently Asked Questions. Read the answers to your most pressing questions and come prepared to our Chevy dealer in Red Lion, PA!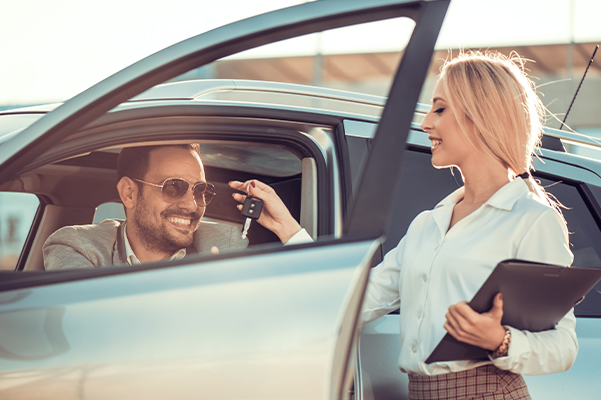 Where Is Apple Chevrolet of Red Lion Located?
No matter if you're visiting our nearby Chevy dealer from Lancaster, Harrisburg or elsewhere in Central Pennsylvania, you'll find that we're just a quick drive away. Get directions to Apple Chevrolet of Red Lion, located at 3220 Cape Horn Road in Red Lion, PA.
When Is Apple Chevrolet of Red Lion Open?
The Apple Chevrolet of Red Lion sales hours are as follows:
Monday -- Thursday: 8:30 a.m. to 8 p.m.
Friday: 8:30 a.m. to 6 p.m.
Saturday: 8:30 a.m. to 5 p.m.
Sunday: Closed
Our Chevy service and parts centers in Red Lion, PA, have the following hours:
Monday -- Friday: 7 a.m. to 6 p.m.
Saturday: 7 a.m. to 4 p.m.
Sunday: Closed
How to Contact Our Dealership?
It's easy to get in touch with our team. You can contact Apple Chevrolet of Red Lion online, or give us a call at one of the following phone numbers:
Sales: (888) 478-2579
Service: (888) 456-6583
Parts: (717) 244-4036
What Are My Chevy Financing Options?
You'll have a variety of Chevrolet financing options to choose from when you shop at our Central PA car dealer. Apply for an auto loan nearby, or ask our team about how you can start a new Chevy lease in Red Lion. You can even choose to pay for a vehicle in cash if you're able to do so.
Are There Any New Chevy Specials Available?
We're always looking for ways to help our customers save, which is why we offer rotating Chevy specials. Visit our Red Lion car dealer to explore our current Chevrolet lease offers and new vehicle finance incentives.
How to Estimate Monthly Car Payments?
It's a good idea to get an estimate of how much your monthly Chevy payments will be in order to determine what you can afford. Speak with our Chevy finance experts to develop a car payment plan that works with your budget.
How to Apply for an Auto Loan in Red Lion, PA?
Get a head start on the auto financing process by filling out a Chevy finance application online. Or, complete all the paperwork in person with the help of one of our finance specialists.
Can I Get Approved for a Car Loan Before I Buy?
Yes, you can. Get the process started early by applying for Chevy credit online. You'll need to provide information on the new Chevrolet truck or used Chevy SUV you wish to purchase, as well as personal details like your address and income.
Do You Accept Used Car Trade-Ins?
Yes, we do! Visit us to get an official used car trade-in offer, then apply it toward a new Chevy Equinox lease or Silverado purchase. Or, simply sell a car to us for cash and walk away.
Am I Eligible for Section 179?
The Section 179 Tax Deduction is designed to help small-business owners save on the costs of vehicles required for business purposes. Claim this commercial tax incentive when you buy a Chevy Silverado truck or Express cargo van from us!
How Does GAP Insurance Work?
GAP insurance helps cover the amount you owe on your vehicle and the car's actual cash value in the event of an accident, granting you added peace of mind. If you'd like to purchase GAP insurance in Red Lion, PA, come speak with our auto financing team to review warranty plans.
Apple Chevrolet of Red Lion
Local Car Dealership Selling New Chevy and Used Cars
Serving: Red Lion, PA
Local Phone: (717) 244-4036
Directions to Apple Chevrolet of Red Lion
3220 Cape Horn Rd, Red Lion, PA 17356