Whether you live in Red Lion, Pennsylvania, or you're just stopping by for a visit, there are several places in the area where you and your friends and family can play mini-golf. It's a great way for you to spend time outside, engage in friendly competition, and perfect your swing. Many places also offer other games and activities or include a cafe or restaurant where you and your companions can enjoy a bite while playing. Here are our suggestions for places to visit near Red Lion where you can play this entertaining game with your loved ones.
CONES AND CLUBS MINIATURE GOLF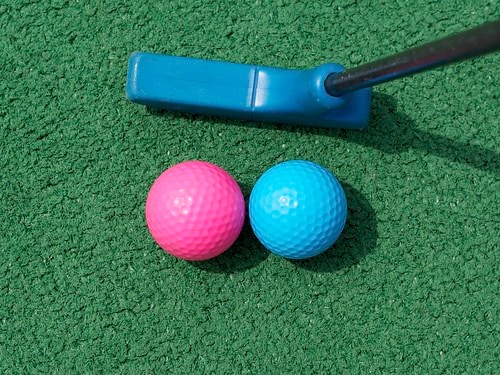 Image via Flickr by Au Kirk
If you're looking for an afternoon full of fun and sweet treats, visit Jim Mack's Ice Cream, which features a 24-hole miniature golf course called Cones and Clubs Miniature Golf. Established in 1958, this local spot has served the Red Lion community for decades and is a great spot for a day full of family fun. When you're finished with your rounds of mini-golf, you can take your kids to feed the animals there, including goats, pigs, bears, and llamas.
LEISURE LANES OF LANCASTER
Visit Leisure Lanes of Lancaster to participate in several family fun activities that allow you to bond with your loved ones and have a good time. Here, they offer safari mini-golf, where you and your kids can engage in friendly competition and explore the exciting features of the course.
If you want to practice your golf swing, you can also check out one of their full-sized driving ranges and their real green putting course. While you're there, you can also stop by their bowling lanes, video arcade, and billiards tables, ensuring that all of your companions can find an activity they enjoy. They also offer several group specials and seasonal discounts, making it a great location to host an event, party, or company gathering.
BOULDERS MINIATURE GOLF
If you visit in the spring and summer months, make sure to stop by Boulders Miniature Golf and explore their scenic outdoor space and courses, including boulders, footbridges, and plenty of greenery to help you stay cool in warm weather. They offer a variety of packages that you can take advantage of, including the amateur package featuring one round of mini-golf and a fountain drink.
You can also choose the pro-package, where you'll receive one round of mini-golf, a fountain drink, and a single scoop of ice cream from the creamery owned by the same individuals who own and operate Boulders. They also offer discounted rates before 5:00 p.m. on weekdays. Feel free to bring the whole family because they provide special pricing for kids under the age of 12.
THE SHACK RESTAURANT AND MINI-GOLF
Visit The Shack Restaurant and Mini Golf to enjoy a meal while overlooking the golf course and park, and then stick around for an exciting game of mini-golf. Their menu features something for everyone, like fresh-cut fries, burgers, wraps, salads, and hand-dipped ice cream. Located in the historic Kauffman's Park in Manheim, this attraction makes it easy to enjoy a day full of food and fun. You can also check out their specials, including senior day every Tuesday, where seniors can golf for a reduced rate, and family day every Thursday, where kids' prices are half off.
222 DUTCH LANES
Bring your friends and family to 222 Dutch Lanes for a day full of fun where you and your loved ones can check out their miniature golf course that features several elements that imitate aspects of Lancaster County, including decorative Amish churches, corn cribs, barns, and plows. The course has the same layout as it did when it was first made in the 1960s, so you can play in the same area that locals have enjoyed for generations.
You may also consider this attraction because of its pricing. Kids 17 years and under receive a discounted rate and seniors ages 60 and older get a special deal on weekdays. You can also stop by their arcade where you and your friends can enjoy games that are great for all ages or check out their bowling lanes to keep the fun going!
CHALLENGE FAMILY FUN CENTER
Although it's a little outside of Red Lion, Challenge Family Fun Center is well worth the drive. Here, you'll find activities that are entertaining for all members of the family, including duckpin bowling, indoor batting cages, arcade games, and, of course, their 22-hole miniature golf course.
In-between games you can also stop by their cafe and ice cream shop for lunch, a warm drink, and a tasty treat to relax and spend time with your loved ones. Children ages 12 and under can play mini-golf for a discounted rate, so you can bring the little ones to explore the trees, flowers, and water features along the course.
OVERLOOK MINI-GOLF
Now part of Stoner Commons, Overlook Mini-Golf is sure to impress with its beautiful 18-hole course on the Overlook Community Campus in Manheim Township. Each hole is at least 40 inches in length, making for a challenging and entertaining game of mini-golf. While you play, you and your companions can also enjoy the multiple water features, like a natural rock waterfall, located throughout the course. Nature lovers can see various plants and colorful flowers throughout the course, adding texture to the landscape and making your experience even more enjoyable!
There you have it, our recommendations for the best mini golf places near Red Lion that you have to check out the next time you're in the area! Did we cover all the local places you love, or are there locations and attractions missing from our suggestions?
Contact us and we'll be sure to update our list with your favorite spots for mini-golf in and around Red Lion. If you're in the area, or you're planning an upcoming vacation to a nearby town, there are several places you can visit to play mini-golf with your friends and family, so make sure to visit the places on our list and let us know what you think.